Federated search is a process that allows you to search multiple Open-source intelligence (OSINT) datasets with just one search. Using powerful, centralised coordination technology, federated search, and even more importantly, federated processing and harmonisation of facts, not only pulls together disparate information from a variety of sources but also returns the results in a succinct, unified way, with minimal duplication.
This benefits the user both in terms of information retrieval and convenience. The ability to search multiple databases at once, in real time, and have the results presented in a useful form is crucial, especially when it comes to KYC.
However, in most cases, financial crime teams do not have access to a single source of KYC truth. They typically have to cobble together their own bespoke mix of sources that accords with their risk policy, geographic operations, lines of business, or in some cases, brand preference. These sources are across different structures: structured in the case of directors and shareholders databases, semi-structured, as with watchlists, or unstructured, for example web news. The means of access might also differ (API, scraping, data dump.) Some services will be free, some not.
This is all time and labour-intensive and compounds the already difficult task of carrying out KYC, due diligence, and compliance requirements.
By using sophisticated federated search and federated processing technology, smartKYC harmonises all desired public, professional and private sources in a unified search, content analysis and workflow tool. Additionally, content analysis approaches such as natural language processing yield highly accurate results. There are obvious efficiencies with this approach but also synergistic benefits too, including profile enrichment, identity disambiguation, corroboration and co-mingling of results. This means that you get a precise, dynamic and holistic perspective of client risk.
Here's how smartKYC's federated search works:
First, all of the sources, such as corporate registers, watchlists, and news sources are defined by the user.
Second, the query runs through all pre-defined sources, with the content analysed by technology such as Natural Language Processing or Multilingual Natural Language Processing in smartKYC's case.
Last, the user receives the information they need, fast, precise and in real time.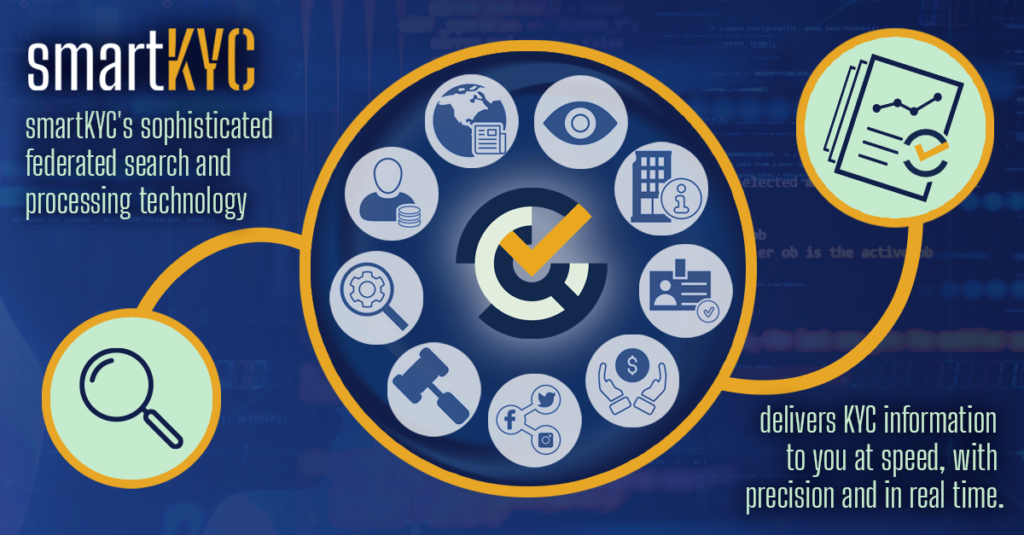 For more information on smartKYC and our technology solutions, please visit:
#smartKYC #federatedsearch #federatedprocessing #ai