smartKYC is the world's most advanced enterprise solution for KYC due diligence automation
Technology to drive faster, better and more cost-effective KYC at every stage of the relationship – liberating human effort to focus on decision-making rather than laborious research.
Discover smartKYC
smartKYC is at the frontier of injecting AI automation into the core of KYC screening processes. Through the automation of deep KYC background checks on companies and people, smartKYC uses AI to do the research "heavy lifting" that a human would normally do. To learn more watch our explainer video.
Financial institutions and, increasingly, corporates are overwhelmed by the scale and complexity of their KYC / KY3P workloads. They are trying to cope with:
A myriad of sources and extensive checklists of information to gather and verify

Large, diffuse client bases, often international in character

Ever-evolving regulatory requirements coupled with internal pressure to deliver

This is set against a backdrop of the systemic risk of human error along with an aspiration to go further and automatically run batch processes like remediation work or continuous risk monitoring programmes.
smartKYC solves all these problems, today.
By combining artificial intelligence, linguistic and cultural sensitivity and deep domain knowledge, smartKYC sets new standards for KYC quality, transforms productivity and hardwires compliance conformance.
Why smartKYC
The smartKYC enterprise-grade platform is designed to make the whole spectrum of KYC due diligence, from IDV to EDD, faster, better and more cost effective. How?
Faster
Through intelligent, explainable AI, the research heavy-lifting is done at speed and at scale by machine, often enabling straight through processing

Better
By reducing the risk of human error, especially in the handling of foreign language material. Every line of every source, regardless of structure or means of access, is analysed

More cost effective
Resources can be moved away from labour-intensive, 'mechanical' processes like searching and reading documents, many of them highly repetitive or ambiguous, to tackle more productive tasks

Solutions
smartKYC applies AI to extract precise open source intelligence (OSINT) from vast corpuses of information – internet and deep web, news archives, watchlists and corporate databases.
Multiple identifying attributes are used to ensure the right identity is being profiled, even in media sources. And all sources are robotically analysed, with semantic precision, in the native language so that every linguistic nuance is captured – not machine-translated into English first and then processed.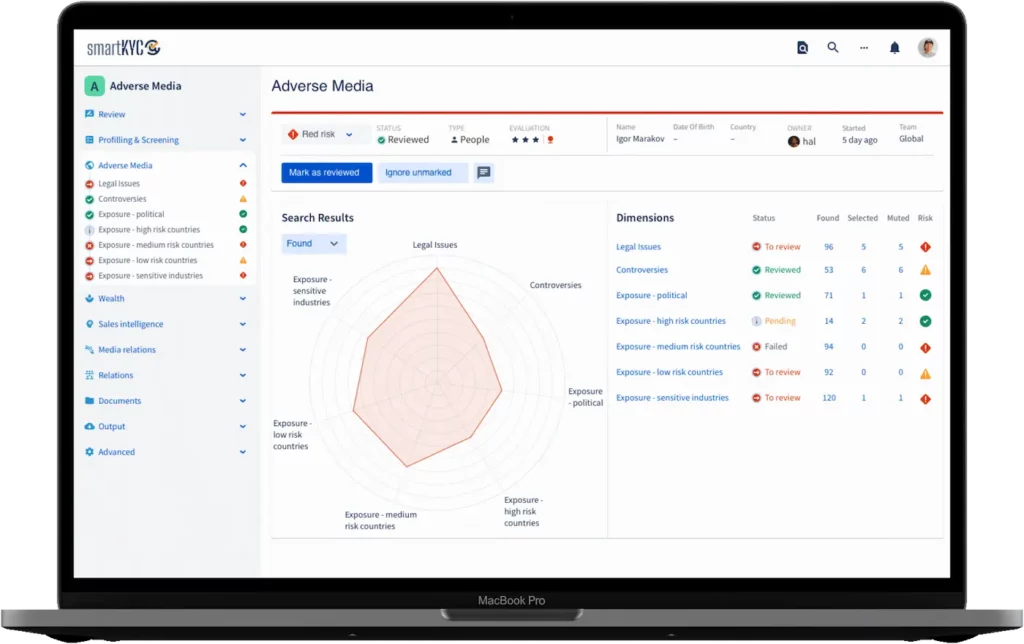 Technology
smartKYC combines extensive industry intelligence with a range of sophisticated, proprietary technologies including
Federated search
Public (e.g. web), professional (e.g. subscription) and private (e.g. blacklist) sources can be integrated and harmonised. We have over 50 available out-of-the-box
Sophisticated name handling
A tailored approach to variant generation, name matching, origin detection, identity matching, hit aggregation and more
Natural, multi-language processing (NMLP)
Scoring media hits for relevance based on multiple identifying attributes and extracting rich intelligence from these sources, regardless of language or script
Sounds complex, but it is actually quite simple. smartKYC also:
Can be configured to reflect client risk policy
Can be integrated into proprietary systems or 3rd party tools because of its API-first design
Supports a multi-tenant architecture
Can satisfy all security requirements
Can be hosted on premise or in the cloud
Is highly scalable
Markets
smartKYC serves the financial services and consultancy communities with a major focus on:
If you share some (if not all) of the characteristics below, get in touch:
High KYC case loads and a desire to straight through process as much as possible
Sensitivity to the potential reputational impact of an enforcement action
Added case complexity, often due to geographic footprint (linguistic and location) or client type risk
A desire to systemise a very manual process and greatly reduce, if not eradicate, multiple points of failure