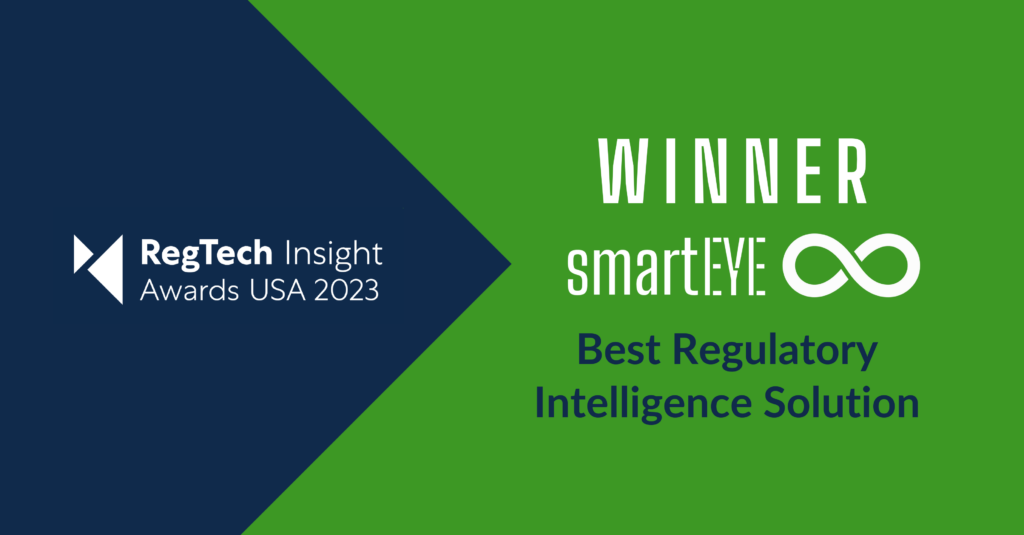 smartKYC is proud to announce that we have won 'Best Regulatory Intelligence Solution' for our latest product, smartEYE, in the RegTech Insight Awards USA, 2023! Winners were announced at the end of the RegTech Summit in New York on 16th November.

"We are delighted to be recognised by RegTech Insight for our advancements in technology and the solutions we are able to provide for our clients," says smartKYC's COO Hugo Chamberlain. "It is particularly pleasing to receive this award for our newest product, smartEYE, a perpetual adverse media screening solution that intelligently scans for adverse media in real-time. Our aim with smartEYE is to offer our clients the ultimate defence against risk: 24/7 risk vigilance. We are excited to continue in our contribution to more comprehensive and effective compliance and third-party risk management solutions to the global market."
Angela Wilbraham, CEO at A-Team Group, and host of the 3rd annual RegTech Insight Awards USA 2023, commented:
"These awards recognise companies providing RegTech solutions that have successfully improved firms' ability to respond to evolving and ever more complex regulatory requirements across the global financial services industry. Our congratulations go to smartKYC for winning Best Regulatory Intelligence Solution."
To find out more about the awards, please visit A-Team Insight.
Discover smartKYC
smartKYC is at the frontier of injecting AI automation into the core of KYC screening processes. Through the automation of deep KYC background checks on companies and people, smartKYC uses AI to do the research "heavy lifting" that a human would normally do. To learn more watch our explainer video.

If you are interested in smartKYC's financial crime technology and how it can transform the efficiency and effectiveness of your enhanced due diligence operations, book your demo today.